Published: · Modified: by Bowl Me Over
Freshly baked rolls are easy to make using a simple shortcut! Tasty easy dinner rolls that are a perfect side dish at every meal!
These are the tastiest easy dinner rolls that are simple, tender and delicious! Freshly baked rolls are easier than you think using this simple shortcut!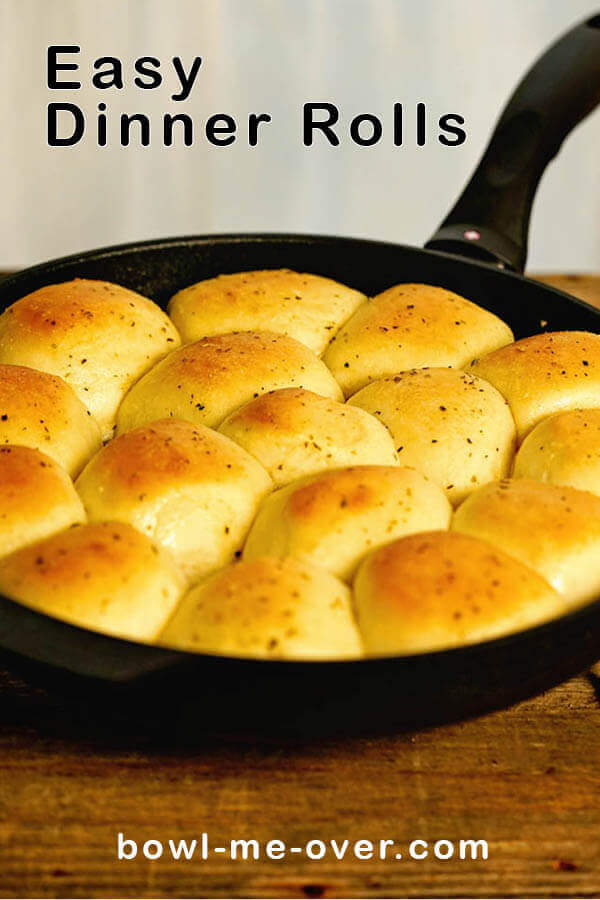 Dinner Rolls
My Grandma made dinner rolls for dinner every night. They were always hot and fresh out of the oven, perfectly timed for an evening meal.
Whether we were feeding 10 or 25, she never took a shortcut by using store bought rolls… or so I thought!
It wasn't until I was in my 40's that I realized Grandma used frozen rolls! Seriously? If it worked for my 98-year-old Grandma, then it definitely works for me!
If you're looking for some terrific recipes to pair with this, make some Turkey Corn Chowder, Taco Soup or Award-Winning Cheeseburger Soup – AMAZING!
Grocery list for Easy Dinner Rolls
frozen dinner rolls
butter
garlic powder, Italian seasoning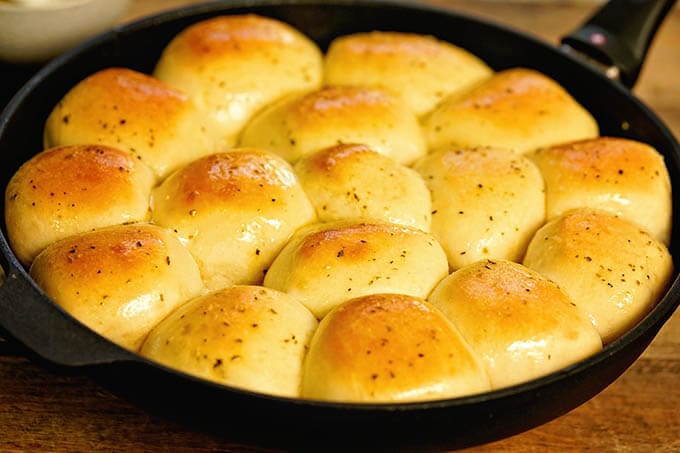 Yes, you can spend hours making the dough – and for those folks that do that – hands off! Many of my colleagues have AMAZING recipes for homemade bread like this recipe from Plattertalk for Crusty Homemade Bread and Italian Dinner Rolls from All Our Way. Freshly baked bread, ahhhh! Glorious!
If you're looking for an easy shortcut, here's how easy frozen dinner rolls are to make AND they are delicious!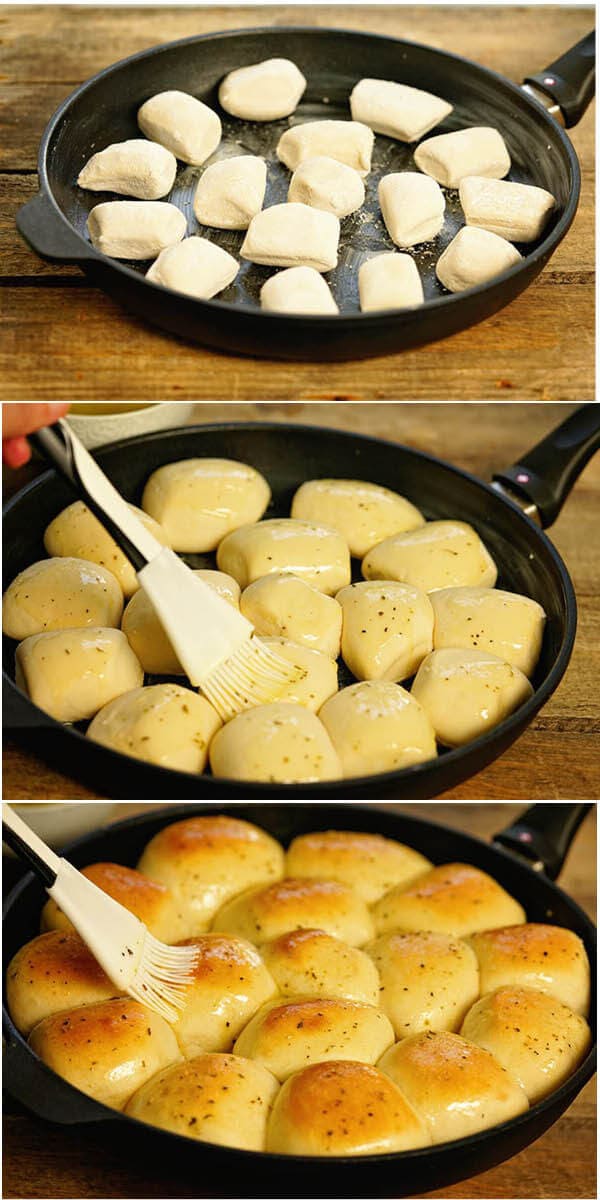 Step by Step Directions to make Dinner Rolls
What does it mean to proof dough?
Proofing the dough is the final rise of the dough prior to baking. In this recipe, you'll wait for the dough to thaw and proof. This takes about three hours. The dough will double in size.
If you don't allow the dough to proof completely, the rolls will be tough and heavy. Allowing the rolls to rise will keep them light and fluffy!
What is the best way to proof dough?
Allow it to sit on the counter in a warm area until it doubles in size.
Frozen dough can be placed in the baking vessel, covered, and placed in the refrigerator overnight.
Placing the dough in a slightly warm oven can hasten the proofing process also!
How to make Easy Dinner Roll Recipe
Butter the cast iron skillet.
Place the frozen dough in the buttered skillet.
Cover with plastic wrap and allow to rise.
Baste with butter prior to baking and bake until golden brown.
After removing from the oven, baste with the remaining butter.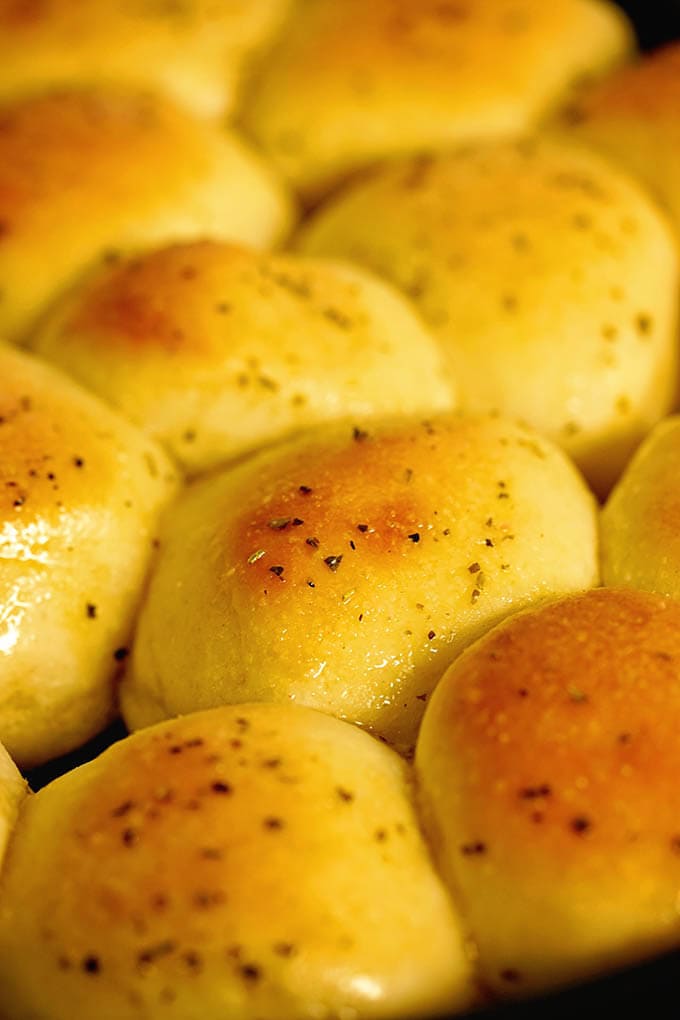 Love easy shortcuts? Be sure to try this recipe for sticky buns with frozen bread dough next!
Some of the items below contain affiliate links; I am a participant in the Amazon Services LLC Associates Program, an affiliate advertising program designed to provide a means for us to earn fees by linking to Amazon.com and affiliated sites. I am also an affiliate for other brands. However, I only promote things that I love and think you will love, too. Disclosure Policy.
I absolutely love this Cast Iron Skillet – I think you will too!
Easy Dinner Roll Recipe
Easy Dinner Rolls
Freshly baked rolls are easy to make using a simple shortcut! Tasty easy dinner rolls that are a perfect side dish at every meal!
Prep Time5 mins
Total Time17 mins
Course: Lunch or Dinner
Cuisine: American
Servings: 12
Calories: 151kcal
As an Amazon Associate I earn from qualifying purchases.
Ingredients
12

frozen dinner rolls

4

tbsp

butter

divided

½

tsp

Italian seasoning

⅛

tsp

garlic powder

¼

tsp

salt
Instructions
Using 1 tablespoon butter, generously butter the inside of a cast iron skillet.

Place the frozen dinner rolls in the buttered skillet about 2 inches apart.

Cover with plastic wrap and place in a warm area. Let rise until doubled in size, about three hours.

Before baking melt the butter and stir in the remaining spices. Generously brush onto the uncooked rolls.

Bake according to package directions until golden brown.

When the rolls are removed from the oven, brush with the remaining butter. Serve while hot and enjoy!
Nutrition
Calories: 151kcal | Carbohydrates: 19g | Protein: 3g | Fat: 6g | Saturated Fat: 3g | Cholesterol: 10mg | Sodium: 307mg | Potassium: 49mg | Fiber: 1g | Vitamin A: 120IU | Calcium: 78mg | Iron: 1.5mg
Sign up for my recipes here!!

Don't worry, we'll never share your email.
About
Bowl Me Over
Welcome to Bowl Me Over! My name is Debra and I send warm greetings from sunny California. I am a serious foodie – I've been known as the go-to girl in our family for years, catering weddings and anniversary parties. In the summer I help cook mountains of food for our family reunions. Often times things I create end up in a bowl, hence the name Bowl Me Over! Let's stay connected, you can email me at [email protected] and find me on Facebook, Pinterest, Instagram, Twitter and YouTube.