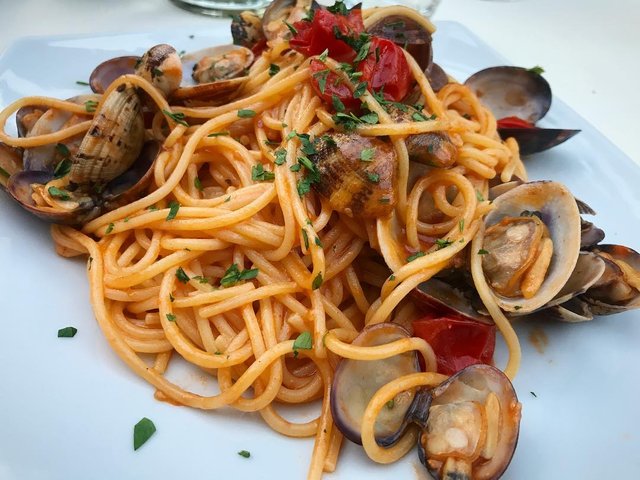 500 grams of clams 
200 grams of spaghetti 
Half glass of white wine (125 ml) (I used fine montilla-moriles) 
4 tablespoons olive oil (40 ml) 
2 liters of water 
1 large and well-ripe tomato (about 250 grams) 
2 cloves garlic, minced 
1 cayenne pepper (small dry chilli) 
1 bay leaf 
1 tablespoon chopped fresh parsley 
3 small tablespoons salt 
As always whenever we use fresh clams the first thing to do is to prepare the clams to release all the sand. You have to leave them to soak with salt 1 hour and change the water a couple of times (total 2 hours). Then remove them from the water and put them in a squeegee under the stream of the faucet so that the water drags any remaining that is glued to the clams.

In a pan or medium-sized saucepan (to get all the clams) put the wine to heat, when it starts to boil add all the clams and wait for them to open. Put them in a bowl as they open. If after 3 minutes from the opening the first one is closed, throw it away since it is dead and if you use it will spoil the food.

Now take a strainer and a very fine gauze (or a very thin cloth) to strain the broth (wine) in which we have cooked the clams and remove any sand that may have. Reserve the broth in the same bowl as the clams.

What is left is done very quickly so we will put the water to boil to cook the pasta. When it is boiling the water adds two small tablespoons of salt, a bay leaf and the spaghetti (although you can use another pasta). Bring to a boil until the pasta is ready.

While the pasta is cooking we will finish the sauce. Grab the tomato and pellet it. Remove the seeds and chop very fine. Book it in a moment.

Peel the garlic and pick it also very well. In a large skillet (which will contain everything, including the spaghetti) we put the oil, the cayenne pepper and the finely chopped garlic. Let the medium-low heat the garlic is taking color but not burning.

When the garlic has taken color add the tomato, the small spoon of salt that remains and raise the fire to fry the tomato a little (for 4 or 5 minutes).

Now add the clams with the broth and leave to the fire a couple of minutes more. Add the chopped parsley, throw the cayenne pepper and put the heat to a minimum so that it stays warm while the pasta is finished cooking.

When the pasta is ready drain well and add to the pan. Add the fire and saute for a couple of minutes or until you notice that the sauce is hot and well mixed with the spaghetti. And ready, out of the kitchen and out to eat!!!