All Archives, Breads, Recipes, Thanksgiving    ·   
This post may contain affiliate links. Please read our disclosure policy here.
This semi-homemade Garlic Herb Dinner Roll Recipe is the perfect thing to make for Thanksgiving dinner!
Can you believe we're one week into November already? It's hard to believe Thanksgiving will be here in just three short weeks! Today I'm sharing yet another semi-homemade recipe…Garlic Herb Dinner Rolls.
This recipe will feed a crowd, which is perfect for your Thanksgiving dinner table, however the recipe can be easily cut in half for smaller gatherings and everyday dinners.
Start by placing 24 frozen dinner rolls on a greased baking sheet, leaving plenty of room for them to rise.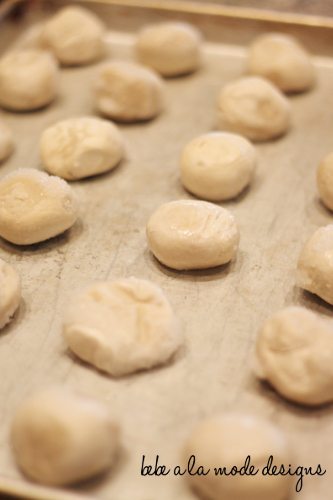 Leave them in a warm spot of your kitchen. Let them rise for about 3 hours or until they are double in size. If you don't have 3-4 hours to spare, there might be a speed method. Check your package for directions.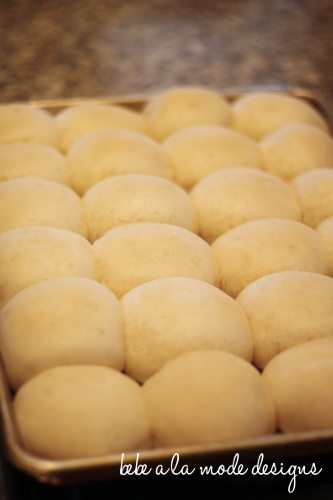 Whoa! Look at those babies! Once they have doubled in size, preheat your oven to 350 degrees.
Get out some fresh rosemary & thyme.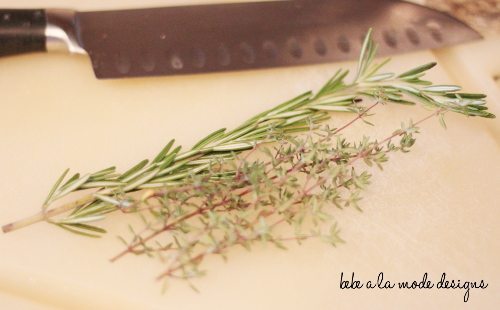 Strip the leaves from the stems and give them a rough chop.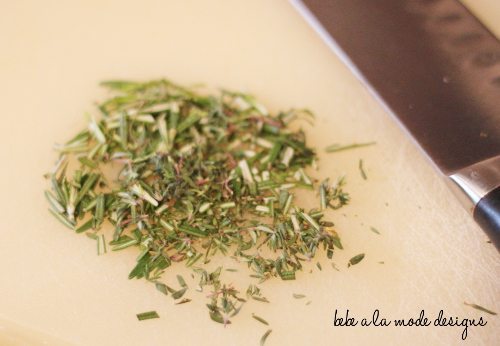 Then melt 1/4 cup of butter (1/2 stick). Using a pastry brush, lightly brush the rolls with butter.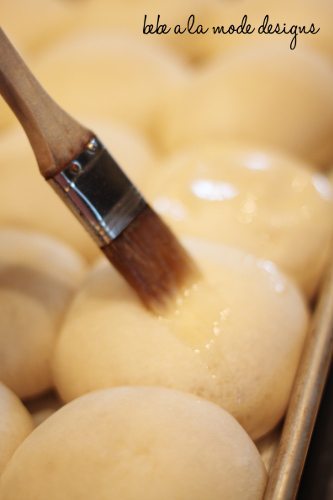 Sprinkle with herbs and kosher salt.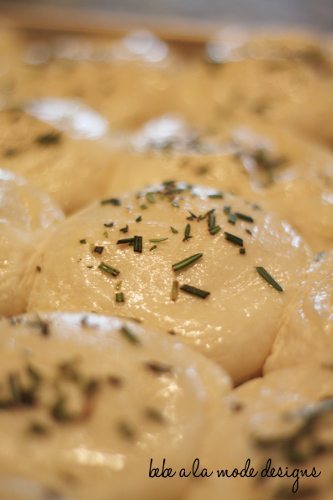 Bake for 15-20 minutes, or until golden brown.
Add 1-2 minced garlic cloves to remaining butter and stir. Using the pastry brush, brush the garlic butter onto hot rolls.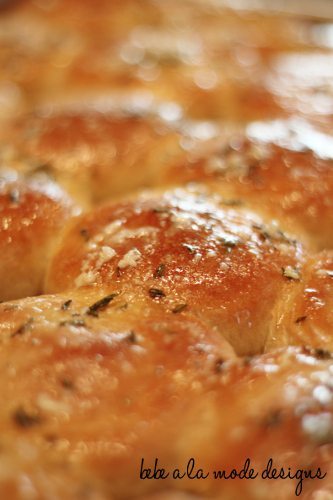 And there you have it! Easy, garlicy, delicious dinner rolls that will have your guests coming back for seconds (or thirds!).
These Garlic Herb Dinner Rolls are warm, buttery and delicious – the perfect addition to any meal!
Prep Time10 mins
Cook Time20 mins
Raising Time3 hrs
Total Time3 hrs 30 mins
Course: Side Dish
Cuisine: American
Keyword: Garlic Herb Dinner Roll
Servings: 24
Calories: 151kcal
Author: Brittany
Ingredients
24

frozen dinner rolls

½

c

butter

melted

1

sprig

fresh rosemary

2-3

sprigs

fresh thyme

1-2

cloves

garlic

minced

kosher salt
Instructions
Place the frozen dinner rolls on a greased sheet pan, leaving room to rise.

Put the sheet pan in a warm place for 2-3 hours or until rolls have doubled in size.

Strip herbs from their stems and chop roughly.

Using a pastry brush, lightly brush the rolls with melted butter, reserving about half

Sprinkle herbs over the rolls.

Add a pinch of kosher salt to each roll.

Bake at 350 degrees for 15-20 minutes or until golden brown.

Stir in minced garlic to remaining butter.

Using the same pastry brush, lightly brush the warm rolls with the garlic butter.

Serve warm.
Nutrition
Calories: 151kcal | Carbohydrates: 19g | Protein: 3g | Fat: 6g | Saturated Fat: 3g | Cholesterol: 10mg | Sodium: 259mg | Potassium: 49mg | Fiber: 1g | Sugar: 0g | Vitamin A: 125IU | Vitamin C: 0.2mg | Calcium: 78mg | Iron: 1.5mg