Gluten Free Spice Cake is a great alternative to pumpkin or apple pie. And the cake lovers won't feel left out!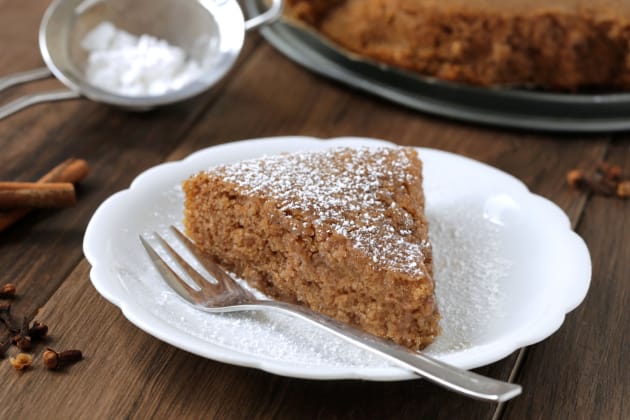 After making these gluten-free cardamom cookies, I was in the mood for some more spiciness and thought that a spice cake would fulfill that need pretty well. 😉 I originally tried this gluten-free spice cake as muffins. They rose fantastically and were so pretty with some chopped pecans on top!
But once I bit into them? Total disappointment. The tops of the muffins were rubbery and the muffins were on the dry side (despite me not overbaking them!) I figured that it was because of my gluten-free variation. So I tried again with all-purpose flour and they came out the same exact way. Apparently some cake recipes come out really badly in muffin form!
Baked in a 9" round cake pan, this gluten-free spice cake comes out perfectly. It's incredibly moist and has a nice crumb. The only little annoying thing is that the toothpick test doesn't work here. I had the same issue with the gluten-free upside down apple honey cake I posted recently and I was worried about this spice cake recipe not coming out for a third time. So I thought I'd dig just a bit into the center with a knife to make sure it was really done. It wasn't!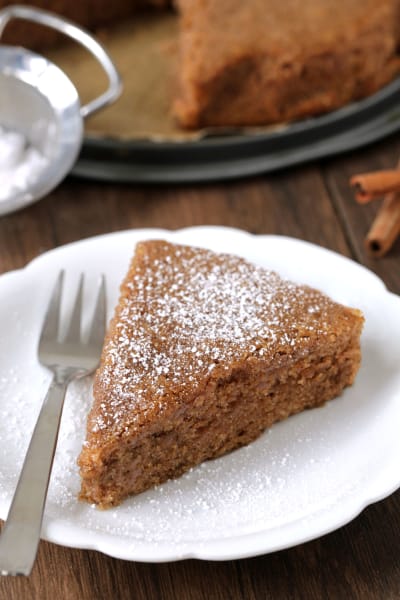 If you don't like the thought of cutting into the cake for presentation reasons, just cover it up with some powdered sugar. Or use the glaze in these gluten-free caramel apple cheesecake bars! It'd be a perfect fit.
Make sure to use a gluten-free baking mix that's a 1-to-1 substitute for all-purpose flour. If you don't need a gluten-free version, you could use all-purpose flour or whole wheat flour instead. And if you want to add a bit of texture, toasted walnuts or pecans would make a great add-in. Any way you make it, it's sure to be delicious!
Are you tired of the dinner routine?
Stuck in a rut or looking for fun new recipes to try?
Our Facebook Group is growing every day! If you haven't joined yet, we invite you to come check it out and join the fun.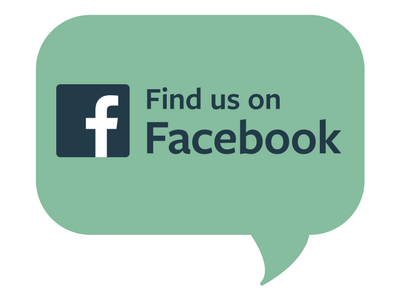 You can ask for recipe ideas, talk about cooking techniques, or get help figuring out the right new pan set for you. If you've already joined, invite a friend along!